Department of Industry and Construction Statistics
Gasimzade Elman Gabil - Department of Industry and Construction Statistics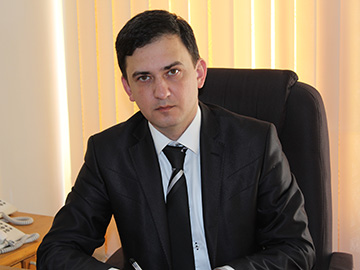 Head of Department
Telephone:
539-87-17
e-mail:
elman.gasimzade@stat.gov.az
Gasimzade Elman was born on 21 December, 1975 in Azerbaijan (Baku city). He graduated from Azerbaijan State Economy Institute in 1997, Academy of Public Administration under the President of the Republic of Azerbaijan in 2010.
In the period of 1997-2012 he worked as a Leading Adviser, a Head Adviser, a Head of Sector, a Deputy Head and during 2013-2019 Head of Department of Price Statistics in the State Statistical Committee.
He works as a Head of Department of Industry and Construction Statistics since September 2019. He is a counselor of civil service. Awarded the medal "For distinction in the public service" in accordance with the Order of the President of the Republic of Azerbaijan dated 21 June, 2017. He is married and has two children.
Activity Direction of the Department:
-to provide implementation of official statistics in the field of industry and construction statistics;
-to provide timely collection of statistical data and compliance of those with the social-economic processes in the country;
-to prepare indicators characterizing social-economic development of regions and present to the relevant institutions.